When it comes to party in Asia, Vietnam's neighbor, Thailand, usually takes the crown. However, travelers should not overlook the seemingly coy Vietnam. Indeed, the cities in Vietnam are more known for its cultural and historical significance but this country does host a night long party scene, especially in two of its biggest cities – Saigon and Hanoi.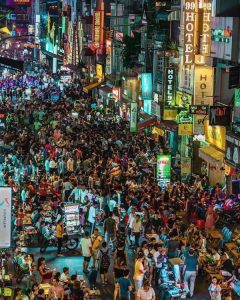 In the dense Ho Chi Minh City, travelers can expect to experience the urban festivity at Bui Vien Street whereas the Hanoi counterpart is known as Ta Hien Street in the Old Quarter. Whenever you are in these two cities, it is highly recommended to drop by Bui Vien and Ta Hien to mingle and have some fun with different people, both locals and international travelers. In a way, they are the best places to party in Saigon and Hanoi, good places to build your network and just enjoy the city nightlife.
Background of these 2 party areas
Decades ago, these two streets were just another part of the cities. It wasn't until a significant number of backpackers started to frequent the streets as there were many cheap hotels and inns in the area. Backpackers tend to avoid high cost places. Local Vietnamese saw this as an opportunity to start their businesses there. Soon, more and more shops, restaurants and bars open up to become the party centrals of the city that they are today. This is why people often call Bui Vien and Ta Hien, backpacker areas.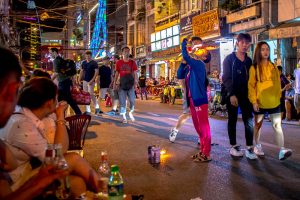 Things you can do at these "tourist areas" 
The streets in both cities are already hectic and packed in the morning but with vehicles and locals going about their daylight business. However, when the night comes, drivers know that the streets now belong to vendors and the establishments of the area. Pedestrians gradually fill up the streets and within a few hours after sunset, Bui Vien and Ta Hien become the party streets of Vietnam. People fill up every corner of the place and it is almost impossible to get a space to sit at the establishment after certain hours. The entire area will be drowned in chatters and cheers as people chunk down beers and food jovially.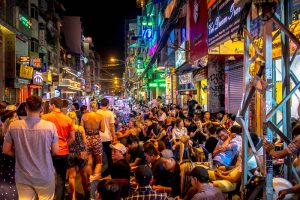 When it comes to food, you can expect both Vietnamese and international cuisines along the street but the best way to enjoy Vietnamese culture is to eat with/ like the Vietnamese people. Part of the fun of eating is to sit by the roadside with tiny stools and table while eating the food served. This is the Vietnamese way. Westerners might find this a little uncomfortable at first but when the mood sets in, the discomfort will be at the back of their mind.
Another must-do activity when in Vietnam is to drink Vietnamese beer. If Saigon has beer Saigon, beer Hanoi dominates the market of Hanoi. These beverages can be found almost everywhere, especially Bui Vien and Ta Hien. Just go to any convenience store or bar and order one or two beers. Then, walk down the streets and enjoy the nightlife with a nice cold beer on hand. Just don't get drunk and make a fool out of yourself. Obviously, you can always go to bars or pubs to enjoy other alcohols and party in Saigon and Hanoi with the locals or newly acquainted friends.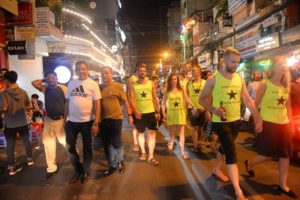 With the high traffic of travelers, the streets also offer souvenirs for your dearest ones back home. If you stay around the area, you need not worry about going elsewhere to buy gifts last minute. The streets are packed with different souvenirs and they are very hard to miss.
Party in Saigon and Hanoi but

STAY SAFE!!!
As a traveler, you can never be too safe. In any country, it can always be expected that petty crimes are lurking around the corners. Thus, while you are having fun with your newly acquainted friends, it won't cost you anything to take some precautions.
Firstly, it's very packed at both Bui Vien and Ta Hien at night as many people flood the area to have a good time. If you are not careful, you might find your belonging in your pockets or bags missing before the dawn breaks. On such a people-congested street, it is easy for a person to pickpocket your items without you paying attention. There are accounts of people stealing others' expensive belongings even in the bars and restaurants. One moment your phone is on the coffee table, the next moment it is on the black market. A good advice would be to bring only your essentials and not to carry so a lot of money in your purse or wallet.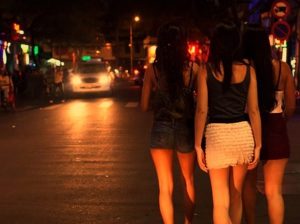 Moving on, the next safety issue lies more on Bui Vien Street. Along the stretch of road in the area, you will notice that many local Vietnamese ladies start to roam the streets looking for men for another kind of 'fun'. They will persuade men to consider their service as masseuses or entertainers. Obviously, they are prostitutes and it goes without saying that prostitution in Vietnam is totally illegal. It's a serious crime and should be avoided at all costs. They are more active closer to midnight. It should be advised to travel with friends rather than alone when it comes to this area. However, for Ta Hien in Hanoi, there is little to no signs of women asking for one-night stands.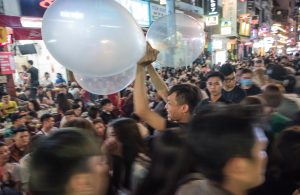 Lastly, beware of scams and drugs. Shady characters tend to roam the streets as well. They might sell you so-called 'real brand' at a cheap price or the items could be stolen, like another traveller's phone. Worst of all, they might sell you drugs. Again, do note that drugs are entirely illegal in Southeast Asia and if you are caught with them, it will be a hefty penalty or you might even incur death penalty.