Welcome to Saigon – heaven of Vietnamese local and international cuisines. Thousands of street food vendors have proudly brought Saigon onto the world map, with their phenomenal dishes. But, no matter how good their dishes can be, they are just famous among the locals. Many of them stay unknown to travelers unless they are lucky enough to get featured in an international TV show. There are many more fine places than the Lunch Lady's. There are many more fine places that Chef Luke Nguyen, Anthony Bourdain or Gordon Ramsay haven't found out. With this article "The Ultimate Street Food Guide to Saigon", we hope to bring all tourists the courage to step inside a street food stand or vendor, and order like a local.
I. Street Food Guide to Saigon District 1
District 1 is known as the center of Saigon, where most of the city attractions are located within. Most of the tourists, for that reason, stay here for a convenience to explore the city.
1,

Famous place for Sticky Rice & Desserts in Saigon District 1

– XOI CHE BUI THI XUAN
Hungry? Thirsty? Looking for something to refresh your day? This restaurant has everything to fill you up. Located on a small street in downtown Saigon , the place has been popular to the locals for as long as it's known.  Small as it is, the restaurant is filled with people eating and chatting noisily all day and eaters are always surprised at how many dishes it serves. There are more than a dozen of sticky rice dishes and Vietnamese desserts to satisfy everyone whether you are looking for something savory or just want to satisfy your sweet tooth.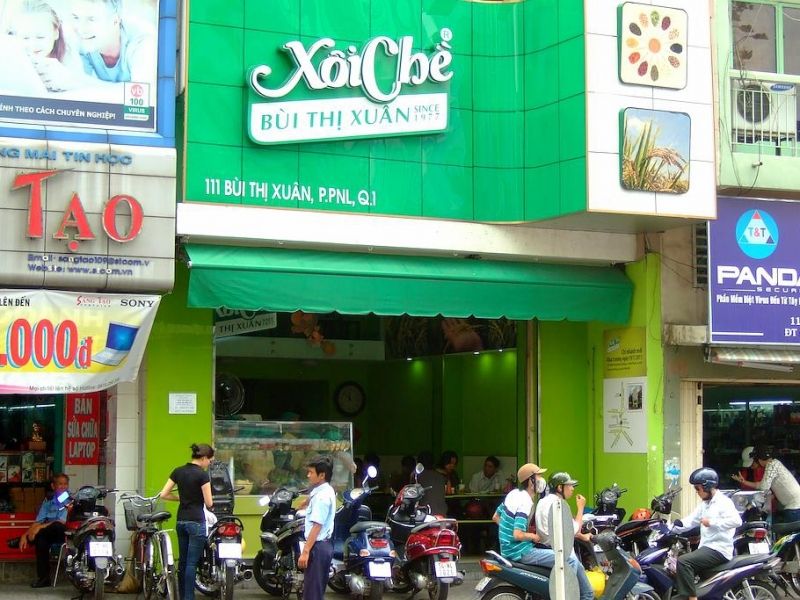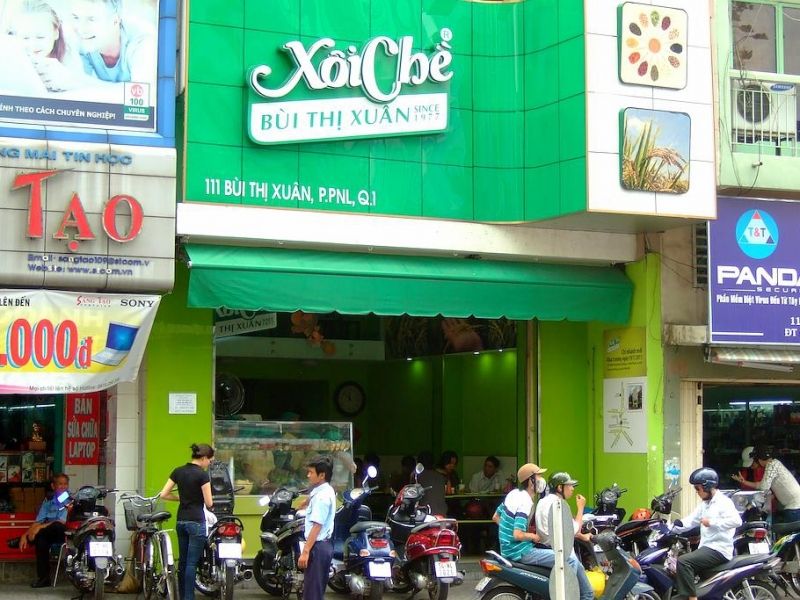 The most famous dish that put this restaurant on the map is chicken sticky rice (xoi ga). Served on a small round plate, the base  is steaming hot white sticky rice with deep-fried chicken thigh or wing and some chicken floss , spring onions sprinkled on top. This is best eaten with some fresh or pickled veggies like cucumbers and radishes. The crunchy of the salty chicken and sweet and sour veggies with the softness of the rice all create a perfect harmony in the eater's mouth.
If you get thirsty after eating all the delicious food then order yourself some lovely drinks or desserts to accompany everything. Our recommendation is going for a few Vietnamese desserts to try out some fantastic South-East Asian fruit combinations. Any traveler who is lactose and/or gluten intolerant, worries no more as some of these desserts are vegan made completely from plants such as coconuts and mung beans. What is even better is that all of the dishes come in small proportions so you can try everything without getting stuffed. This restaurant is also known for being budget-friendly since most dishes cost less than USD2. That is why it is flooded with Vietnamese people. We don't need any Starbucks or McDonalds here. All in all, if you look for a quick stop that best represents Vietnamese eating culture, this is the place to go.
2,

Cheap Rice Noodles & BBQ Pork in Saigon District 1

– BUN THIT NUONG KIEU BAO
Ever wonder why sometimes you smell BBQ meat when you turn around in a small corner on the streets of Saigon? Let me introduce you to one of the most iconic dishes in the city: bun thit nuong. If Hanoi is famous for bun cha then its Southern counterpart has bun thit nuong. An old-time, local restaurant that is very well-known for this dish is Kieu Bao. Located on De Tham-one of the most bustling streets in the city centre, tourists will not have any problems finding this place since it is always packed with locals.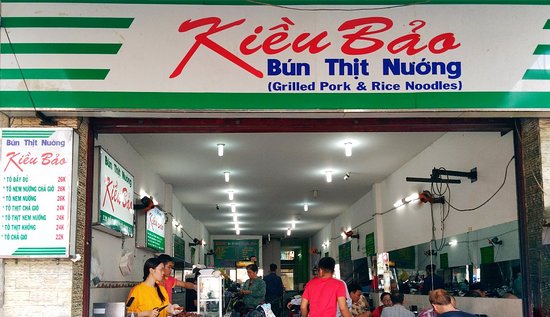 When eating at Kieu Bao restaurant, visitors are usually impressed with how quick the service is .Merely 5 minutes after ordering is the food served. But the main reason why people go there is because of what the place is best known for- bun thit nuong. It consists of rice noodles (or vermicelli), grilled pork and pork sausages, pickled carrots, summer rolls and fish sauce as a dressing strategically paried  with stir-fired spring onions and peanuts sprinkled on along with  lettuce and some herbs as side dishes. The smoky, salty and a bit sweet barbecue pork with the crunchy, sour pickles and fantastically rich fish sauce melt beautifully in eaters' mouth. Everything is harmonically balanced out with the taste of fresh greens then with a touch of Thai basils and mints wake up all the senses in people's mouth. Finally, the rice noodles keeps visitors feel full and satiated. Most people argue about what really is the heart and soul of the dish, whether it is the meat or the fish sauce.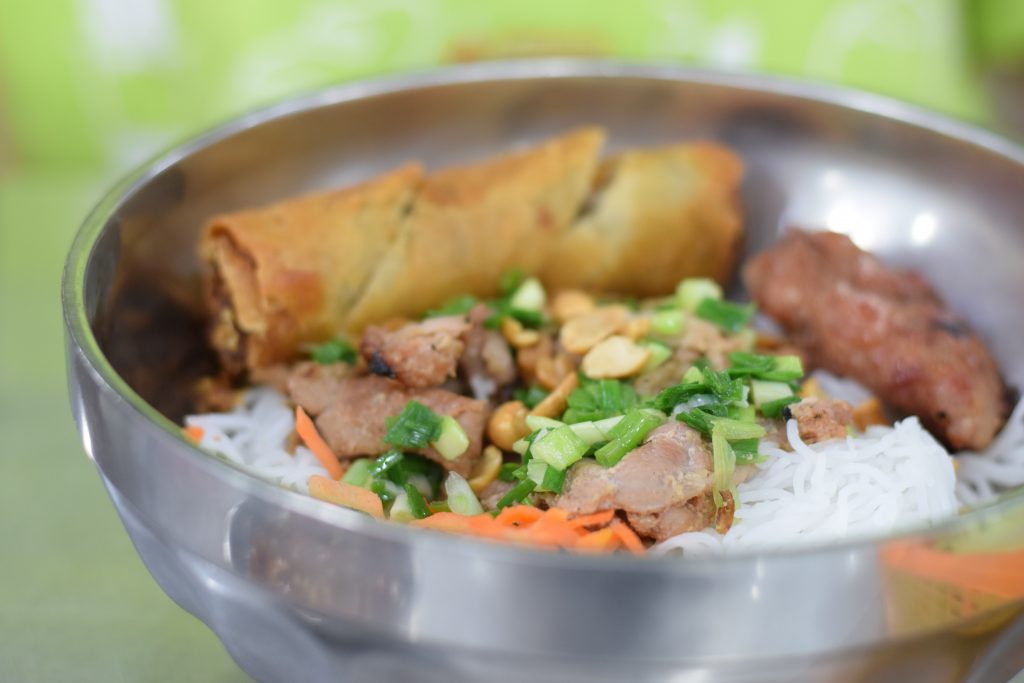 As Vietnam is known as a quite "saucy" country and sauces play an integral part in our cuisine, there is no doubt that fish sauce is actually what makes or breaks a dish. No matter how high-quality or how well the meat is prepared, this dish-bun thit nuong will definitely be ruined with a bland fish sauce. Good fish sauce is actually a mix of the original fish sauce, lime juice or vinegar, garlic, sugar and chili, which helps enhance the flavor of the dish even more. A popular restaurant like Kieu Bao without a doubt has fish sauce that matches its reputation. The restaurant also offers a variety of beverages such as soft drinks, iced tea and so on to accompany bun thit nuong and free extra rice noodles.
Eaters may also be surprised at how incredibly inexpensive the food is. A typical meal for two people usually costs a bit more than $2. However, if you are looking for the best place to try bun thit nuong , this may not be the place for you as people come here mostly for the attractive price and relatively good food. In the case that you just want to have some local food that is not overpriced, definitely check this one out.
3,

Delicious Broken Rice in Saigon District 1

– COM TAM THUAN KIEU
When thinking about Vietnamese food, the first thing that pops up in people's head is Pho. It is often considered the best dish we have to offer. However, Southerners especially Saigon locals beg to differ. There is a saying in our country that goes as "If Hanoi has Pho then Saigon has Com Tam". Yes, Com Tam or Broken Rice, has long been a favorite of local people but it have yet to receive the recognition deserved from worldwide eaters. There is a fun fact behind the dish's name. As the name suggests, it is fractured rice grains which used to be eaten only by poor people but when rich people tried Com Tam, it knocked their socks off. Over time, it has become one of the most popular dishes in Saigon.
Restaurants that sell broken rice, are usually spotted near office buildings and schools but not all of them are equal. If you ask a local to recommend a good place to try broken rice, they are probably going to say Thuan Kieu. This is one of the long-standing and most highly regarded restaurants in Saigon since it was established before 1975. It has gained a legion of loyal customers for its time-tested quality and service. As Vietnam has been progressing with time, so has Thuan Kieu. Tourists can  easily find the place due to Thuan Kieu now being a restaurant chain with 7 locations in Saigon, 3 of which is in the city centre (district 1). Nowadays, when customers order food, there are more than 50 different dishes on the menu which are all variations of the classic com tam in order to appeal to younger and more picky eaters.
A standard com tam when served consists of broken rice grains, beautifully caramelized pork chop, steamed egg cake, and omelet. Pickled carrots and radishes together with cucumber always accompany the dish. And no com tam is completed without the one and only- fish sauce dressing. This is not your ordinary fish sauce that comes from a bottle. It is a concoction of original fish sauce, lime juice, sugar, vinegar, and lots of garlic and chili but the dressing is also conveniently customizable to suit everyone's taste.Com tam is normally eaten with a fork and a spoon, which foreigners may find odds to eat BBQ pork without a knife. The meat is strategically grilled on a charcoal to specific heat under certain amount of time that becomes well-done but so soft and tender that even toddler teeth can chew on it. Upon being eaten, the smoky yet slightly sweet barbecue pork, the soft, airy egg cake, running egg yolk and a bit of pickles with fish sauce dressing on it rock all of the senses in eaters' mouth. While com tam may be thought of as our comfort food, it can energize people at any time of the day as well. The restaurant also offer different choices for meat such as chicken and seafood for customers who cannot eat pork. A typical meal for 2 people costs USD8, which is rather up there for a dish like broken rice. But if you are looking for a trustworthy restaurant to try it, check it out!