An iconic cathedral in a Buddhist city
Saigon Notre-Dame Cathedral (Cathédrale Notre-Dame de Saïgon) is one of the city's oldest churches – and one of the most famous landmarks of Saigon.
With its dreaming location in the very heart of Saigon, among wide and beautiful parks that are covered by the shadows of big old trees, this church is the ideal place to pause for a hang-out while you wait to hear its bell ringing.
History of Saigon Notre-Dame Cathedral
The Cathedral was built to serve the religious needs of French colonialists' during the war.
This is a Catholic Cathedral and the official chief Cathedral of Saigon.
Building began in 1877 and took 3 years to complete. Over the time of a century, Saigon Notre-Dame cathedral has witnessed many changes of the city but it's still one of the finest examples of Romanesque architecture left by the French.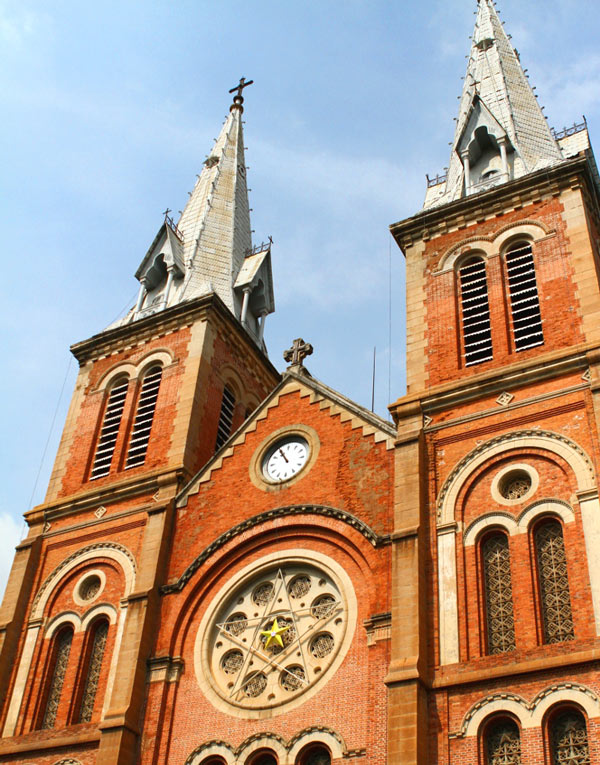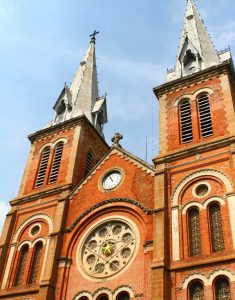 Virgin Mary was tearing
October 2005, the Virgin Mary statue in front of Saigon Notre-Dame was reported to have shed tears, attracting thousands of people and forcing authorities to stop traffic around the Cathedral. The reported 'tear' flowed down the right cheek of the face of the statue.
Other interesting facts about the Saigon Notre-Dame Cathedral
All building materials were imported from France.

At first, the

Notre-Dame Cathedral

didn't have its 2 bell towers. They were added to the church in 1985.

The statue of Our Lady of Peace in front of the cathedral was made with granite and ordered from Rome.

The cathedral foundation was designed to bear ten times the weight of the cathedral.